RAID.Cloud Deployment Models
Telecom Fraud Management Services
ready for private and public cloud environments.
Public, private and hybrid cloud solutions for the most critical fraud management needs
For most CSPs with on-premise technology infrastructure, operating in a hybrid architecture is a necessary part of their cloud adoption roadmap. If your company still doesn't have a full public cloud policy due to security and compliance issues, WeDo Technologies provides an alternative private and hybrid cloud model to deploy prebuilt RAID.Cloud risk management apps.
The co-located hybrid cloud approach means that all data is stored on the private cloud, and it has the advantage of being behind firewalls at all times, even during transmission. Performance loss due to latency over WAN links is avoided too, as is the elapsed time involved in making data replicas in the public cloud and then keeping them synchronized.
RAID.Cloud private cloud appliances are a totally integrated infrastructure system engineered to enable rapid deployment of converged computing when it comes to our fraud management applications.
With RAID.Cloud option models, you can deploy the Fraud Management Apps on your private on-premise cloud in minutes, configure cloud-based services or add more fraud management applications, and choose if you want to scale to public or hybrid cloud environments in the near future.
RAID:Cloud offers a family of hybrid and cloud appliances to support your IT needs.
Hybrid Cloud - Leveraging Both Public & Private Cloud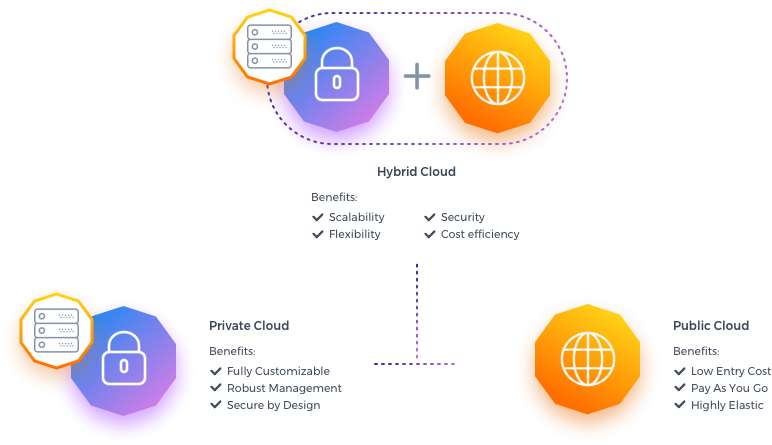 Benefits

Open Source
Powered by OpenStack, a leading open source Infrastructure as a Service (IaaS) provider.

Adaptable
Adapt your cloud strategy to suit your needs – not something you can do with other vendor in the market!

Scalable
Scale-up or down as demand dictates, to better manage resources.

Predictable
RAID.Cloud delivers predictable and dependable performance through design and optimisation for all of your workload needs.